Clue Reviews: Ooia Period Underwear
Ooia Period Underwear
Menstrual products are a world apart from what was available even only twenty years ago. But it can be difficult to determine which product is right for you. Your decision may be influenced by lifestyle, physical activity, comfort, fit, cost, and many other factors.
That's why we're publishing a series of menstrual product reviews, written by the staff here at Clue (and a few of our loved ones) to show you how we used these products, and how they worked for us. Check out the reviews here.
Full disclosure—many of these products were sent to us free of charge, for the purpose of reviews. These are the unbiased opinions of the folks who used the products.
OOIA Period Panties
ooia (formerly ooshi) is a new period panty company based in Berlin—we're neighbors!
€37,95-€44,95 (only shipping within Europe)
"I'll continue using their slip underwear in the future, so that I can finally say goodbye to pads!"
My flow is: medium-to-heavy
I'm looking for: Something that will replace my disposable pads
I tried the ooia slip underwear, because I wanted to find an eco-friendly way to feel protected during my period. Unlike most period underwear products, ooia is based in Berlin. The company was founded by two women—Kati and Kristine, who describe themselves as two mothers who want to contribute to female empowerment.
The website is only in German, but that's understandable. Hopefully they'll have an English version soon! The site explains how ooia technology works: The underwear is made of three layers. The internal layer is made of merino wool to quickly draw fluids away from the body. The middle layer is absorbent and anti-bacterial. The external layer prevents leaks.
I tried the slip, which has a pretty lace trim. I wore them for half a day during the second day of my period, which is usually heavy. Despite my uncertainty, they performed well and absorbed all the blood. There weren't any leaks, which means my jeans were safe and sound.
I was so impressed that I'm sure I'll continue using their slip underwear in the future, so that I can finally say goodbye to pads!
—Ilaria, Support Agent at Clue
"I wore the ooia underwear overnight on one of my heavier days and they did a great job."
My flow is: apocalyptic heavy the first couple days, then pretty average.
I'm looking for: something that can contain all the blood with convenience, comfort, and style.
I often use a menstrual cup, and I like to have some kind of backup in case of leaks. I also prefer not to wear a cup overnight. In the past I used disposable pads or panty liners, but I'm looking for more environmentally-friendly options. Period underwear seems like a perfect solution, so I was eager to try ooia underpants.
The ooia underpants came in a simple but stylish cardboard envelope, with washing instructions on the back. I tested the hipster briefs, which are plain black and unadorned—which suits me fine. Additional designs are available on the ooia website, for people who prefer lace and detailing. The butt of this underwear does look a little bulky, due to the absorbent padding.
I wore the ooia underwear overnight on one of my heavier days and they did a great job. The gusset was damp in the morning, but I didn't have any leaks. I don't think the padded butt was noticeable when worn, but it did make me feel a bit frumpy.
I will definitely use these underpants again, but due to the padding in the butt I'll probably keep them for overnight use, or for when I'm chilling at home.
—Jen, Writer at Clue
Are you using Clue to track your bleeding patterns? Download the app and start today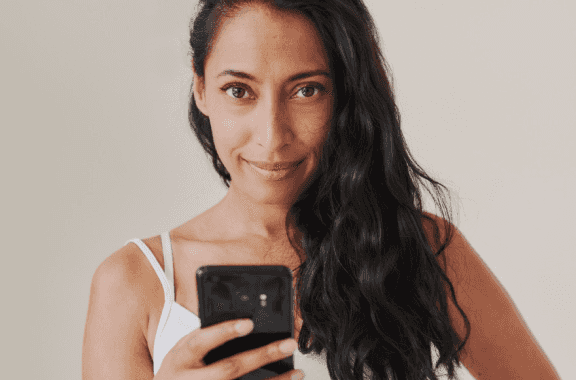 "They were absorbent enough to leave me feeling mostly dry, even after a sweaty workout."
My flow is: Let's just say that my menstrual cup needs to gather a party before venturing forth.
I'm looking for: New products to add to my rotation and make me excited about getting my period.
I'm always up for trying new period products, especially when it helps make my day-to-day life more sustainable. Over the course of reviewing a couple of pairs of period panties already, I've become quite an advocate for this hip(-hugging) collection method—they're easy to use, easy to wash, can be reused for years, and are so, so comfortable.
Even when stacked against my high expectations, the ooia undies did not disappoint. They came in paper packaging with zero plastic foil, which made a positive, environmentally friendly impression right off the bat. I enjoyed how gender-neutral the packaging was as well, a plain white envelope with black lettering and a touch of green.
The panties themselves were made of a fabric that was very soft to the touch, and the absorbent layering didn't feel too bulky. There was a strip of lace at the top that made them feel less medical and more stylish, a flair that many other period brands focused solely on function don't offer.
I tried them on (as my period had conveniently shown up for the occasion) and put them through a thorough test of a full workday, an hour-long bike ride, and a dance class—and they were absorbent enough to leave me feeling mostly dry, even after a sweaty workout.
This is an item I will definitely be adding to my regular menstrual rotation—and is comfortable to wear even on non-period days. I would recommend the ooia underwear to anyone looking for a well-designed, functional period option.
—Ada, Messaging.
If you want to explore more period underwear, then check out what Clue had to say about THINX Period Panties next. You can read all about this and the rest of Clue's period product reviews here.
Download Clue to track your period.
Live in sync with your cycle and download the Clue app today.